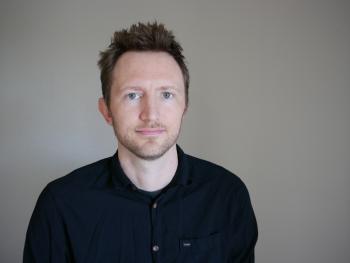 I research experimental literature and film from Mexico that demonstrate contemporary avant-garde aesthetics and narratives. I have carried out research at the Archivo General de la Nación in Mexico City and at the Escuela Superior de las Artes de Yucatán in Mérida, where I have curated an interdisciplinary art collection since 2019. My dissertation addresses representations of gender studies, intersectional feminism, critical regionalism, institutionalism, anti-racism, and social justice. I have received funding from the Latin American and Latinx Studies Program Summer Research Grant, the GAPSA Provost Fellowship for Interdisciplinary Innovation, and Career Services. My short film Allá hay (2017) has screened at film festivals in the U.S., Mexico, and Ecuador.


As a first-generation student, I have been sharing my experience with aspiring students before and during my graduate studies. I was a Spanish/English tutor at the Adelante! afterschool program at Boulder High School from 2006-2007 in Boulder, Colorado. My role as a Spanish/English paraprofessional at Abraham Lincoln High School in Denver, Colorado, from 2008-2009 permitted me to work with an at-risk, immigrant student population and utilize transitional native language instruction. I taught the English language at Proulex, Universidad de Guadalajara from 2009-2011 in intergenerational classrooms with curriculum focused on the preparation for higher education.
Selected Publications:
La Santa': El afecto de la imagen-movimiento en el género literario". Cuadernos Americanos 163 (México, 2018/1), pp. 143-169.
Courses Taught:
Spanish 130, 140, 202, 223.
Education:
M.A., Hispanic Studies, University of Pennsylvania (2016)
M.A., Comparative Literature, University of Colorado, Boulder (2014)
B.A., English Literature, University of Colorado, Boulder (2007)
A.A., Literature, Red Rocks Community College (2005)