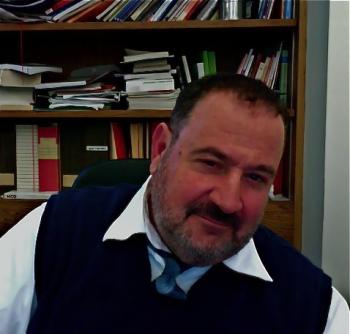 Do you have questions about the Major or Minor in Hispanic Studies, or about course selection?  Prof. Espòsito is available for virtual advising, just email him to set up a time: esposito@sas.upenn.edu
I received my Ph.D. in Comparative Romance Philology and Linguistics from the University of Michigan in 1990. I began teaching at Penn in 1993, and since that time have taught undergraduate courses in Hispanic linguistics, Hispanic cultural history, and medieval Iberian literatures.  My recent publications and research have focused on the early textual manifestations of Pyrenean Romance, specifically the interplay and interdependence of early Occitan and Catalan. If you're interested in where this might lead, feel free to take a look at "The Language of the Chanson de Sainte Foy: Why the Hispanic Manner Matters." Romance Quarterly 56.1 (2009): 21-32.  I am currently working on a textual history of the 11th-century Chanson de Sainte Foy, as well as attempting to recover the erased mester de janglería.  Although I lack a formal visual grammar (I'd probably be the least likely professor to use a film in class), I'm a big fan of Visigothic, Mozarabic, and early Romanesque architecture, and "migration" art and culture in general.
 I find teaching and advising undergraduates to be immensely rewarding, and in 2015 I was awarded the Dean's Award for Distinguished Teaching by Affiliated Faculty.  In addition to my teaching and advising duties, I direct our summer program in Madrid. 
 In my spare time I love to cook and shop for odd kitchen gadgets; I'm also an avid acoustic guitar player and collector.