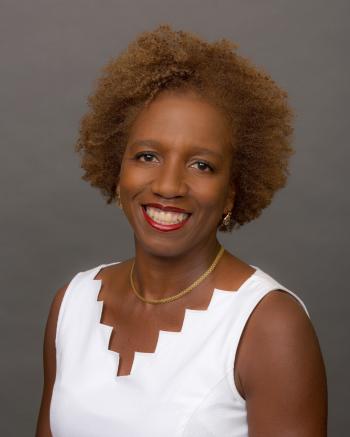 Odette Casamayor-Cisneros is a Cuban-born scholar of contemporary Latin American and Caribbean cultural studies. She received her Ph.D. in Art and Literature from the École des Hautes Études en Sciences Sociales (EHESS) in Paris in 2002 and taught at the University of Connecticut, before joining Penn in 2019. Her current scholarship is centered on Afro-Latin American, Caribbean, and Latinx cultural production and epistemologies.
Prof. Casamayor-Cisneros is the author of Utopia, distopía e ingravidez: reconfiguraciones cosmológicas en la narrativa postsoviética cubana (Vervuert, 2013). The book examines, through the lens of literary production, the existential void experienced by Cubans after the collapse of the Socialist Bloc in the 1990s. She has also published the collection of stories Una casa en Los Catskills (1st edition, La Secta de los Perros, 2012, and 2nd edition, Letras Cubanas, 2016). 
Casamayor is currently working on three book projects:
·       Birthing Ourselves: Black Womanhood and Epistemological Marronage in Afro-Latin American and Caribbean Cultural Production.
An in-depth analysis of a wide selection of autobiographic, fictional, and poetic accounts of the Black experience, authored by renowned contemporary Afro-Caribbean and Afro-Latin American women writers, this monograph examines the ontological reinvention of the self, through the deconstruction of the ideas of Blackness, womanhood, and Latin American and Caribbean identities, while simultaneously producing radically different narratives of Black female empowerment and new counter-hegemonic epistemologies.
·       In Black Ink: Writings From the Flesh of a Black Cuban Woman.
A memoir-like rendition of Casamayor's Black, female, Caribbean, and diasporic experience. At the intersection of personal experiences, collective memory, epistemological research, and the expansion of poetic knowledge, this project anthologizes her bi-weekly column "Con tinta negra," published since 2020 in the magazine OnCuba News.
·       On Being Blacks: Self-Identification and Counter-hegemonic Knowledge in Contemporary Afro-Cuban Cultural Production.
An ethical-aesthetic comprehensive study of racial self-definition practices by contemporary Black Cuban visual and performing artists, filmmakers, musicians, and writers whose works deploy new images that counteract the invisibility of Blacks and Blackness in Cuban cultural production.
Research Interests:
Afro-Diaspora and Blackness in Latin America and the Caribbean.
20th- and 21st- Century Caribbean, Latin American and Latino Literatures, Cultures, and Societies.
Cuban Studies.
Cultural Studies in post-Cold War Latin America.
Latino and Latin American Cinema.
Selected Publications:
Books:
·       Utopía, distopía e ingravidez: Reconfiguraciones cosmológicas en la narrativa post-soviética cubana. Frankfurt/Madrid : Iberoamericana-Vervuert. 2013. 
·       Una casa en los Catskills (Short Fiction). Havana (Cuba): Letras Cubanas. 2016. & San Juan (Puerto Rico): La Secta de los Perros. 2012.
Articles:
·       "Birthing Ourselves: Counter-Hegemonic Black Womanhood in Contemporary Latin American and Caribbean Literature." The Routledge Companion to Twentieth and Twenty-First Century Latin American Literary and Cultural Forms. Eds. Mariano Siskind and Guillermina de Ferrari. New York: Routledge. 2022: 309-319.
·       "Tales of Dreams, Uncertainty, and Survival in Havana." NACLA – Report on the Americas, Fall 2022: 295-301.
·       "Sara Gómez: Inquisitive Gazes on Social Marginality From and within the Cuban Revolution." Images of Utopia: Sara Gómez and Her Contribution to Cuban Cinema. Eds. Susan Lord, María Caridad Cumaná and Víctor Fowler. Bloomington: Indiana UP. 2021: 58-79.
·       "Nancy Morejón, Nicolás Guillén, and Cuban epistemological marronage." Small Axe: A Caribbean Journal of Criticism Vol. 25 (2(65) 2021: 109-124.
·       "Negros de papel: Algunas apariciones del negro en la narrative cubana después de 1959." Artelogie: Recherche sur les arts, le patrimoine et la littérature de l'Amérique latine. Paris, L'École des Hautes Études en Sciences Sociales, 17, 2021.
·       "Imagining the New Black (Subject): Ethical Transformations of Raciality in the Post-Revolutionary Cuban Nation." Black Writing and the State in Latin America. Ed. Jerome Branche. Nashville: Vanderbilt UP. 2015: 61-82.
·       "Between Orishas and Revolution: The Expression of Racial Inequalities in Post-soviet Cuba." Indelible Inequalities in Latin America. Insights from History, Politics, and Culture. Ed. Paul Gootenberg & Luis Reygadas. Durham & London: Duke UP. 2010. 139-68.
·       "Confrontation and Occurrence: Ethical-Esthetic Expressions of Blackness in Post-soviet Cuba." Latin American and Caribbean Ethnic Studies 4/2 (2009): 103-135.
Public Writing:
·       Bi-weekly column "Con tinta negra", OnCuba News, Sept. 14th, 2020 to the present.
·       "My Heart Aches for Cuba — and I Yearn for More Solidarity From the Global Left", Truthout, July 18th, 2021.
·       "Gazes of the Black Woman." OnCuba Magazine. 2019.
·       "The Real Failure of Always a Witch." Cite Black Women. February 22nd, 2019.
·       "The Obamas and the Blacks of Cuba: Some Questions of Power, Agency, and Representation." Huffington Post. Black Voices. March 28, 2016.
·       "The history that we were tomorrow: On Havana's 12th Art Biennale." Cuba Counterpoints. Public Scholarship About a Changing Cuba. Aug. 12, 2015. 
Education:
·       Ph.D., École des Hautes Études en Sciences Sociales  (EHESS)
·       DEA (M.A.), École des Hautes Études en Sciences Sociales (EHESS)
·       DESS, University of Bourgogne, Dijon/UNESCO Paris, France 
·       B.A., Journalism, University of Havana, Cuba