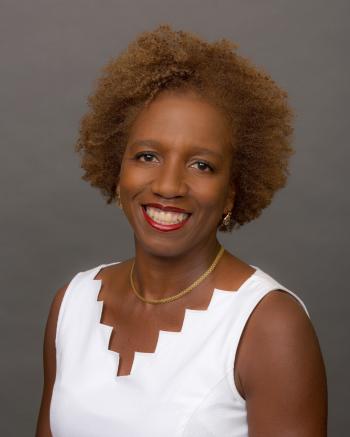 Odette Casamayor-Cisneros (Ph.D. École des Hautes Études en Sciences Sociales in Paris, 2002) is the author of Utopia, distopía e ingravidez: reconfiguraciones cosmológicas en la narrativa postsoviética cubana (Utopia, Dystopia and Ethical Weightlessness: Cosmological Reconfigurations in post-Soviet Cuban Fiction). Published by Iberoamericana-Vervuert in 2013, her book examines, through the lens of literary production, the existential void experienced by Cubans after the collapse of the Socialist Bloc in the 1990s.
Prof. Casamayor-Cisneros is currently writing a new book, On Being Blacks: Self-Identification Processes and Counter-Hegemonic Knowledge in Contemporary Cuban Cultural Production. Her first article on this topic, "Negros de papel. Algunas apariciones del negro en la narrativa cubana después de 1959," received the 2003 Juan Rulfo International Essay Award in Paris. She is also the recipient of the 2009 José Juan Arrom National Prize of Literary Essay by the Union of Cuban Writers (UNEAC).
As a writer of fiction, Odette Casamayor has published the collection of stories Una casa en los Catskills (1st edition, La Secta de los Perros, 2012, and 2nd edition, Letras Cubanas, 2016). 
Research Interests:
Afro-Diaspora and Blackness in Latin America and the Caribbean.
20th- and 21st- Century Caribbean, Latin American and Latino Literatures, Cultures, and Societies.
Cuban Studies.
Cultural Studies in post-Cold War Latin America.
Latino and Latin American Cinema.
Selected Publications:
Books
Utopía, distopía e ingravidez: Reconfiguraciones cosmológicas en la narrativa post-soviética cubana. Frankfurt/Madrid : Iberoamericana-Vervuert. 2013. 
Una casa en los Catskills (Short Fiction). Havana (Cuba): Letras Cubanas. 2016. & San Juan (Puerto Rico): La Secta de los Perros. 2012.
Academic Articles

"Imagining the New Black (Subject): Ethical Transformations of Raciality in the Post-Revolutionary Cuban Nation." Black Writing and the State in Latin America. Ed. Jerome Branche. Nashville: Vanderbilt UP. 2015: 61-82.
"Afrodiásporas y las infinitas travesías del sujeto contemporáneo en el Occidente hispánico: Extravíos, hallazgos, perspectivas" Nuevos Hispanismos. Para una crítica del lenguaje dominante. Ed. Julio Ortega. Frankfurt/Madrid: Iberoamericana-Vervuert. 2012. 209-227.
"Between Orishas and Revolution: The Expression of Racial Inequalities in Post-soviet Cuba."Indelible Inequalities in Latin American. Insights from History, Politics, and Culture. Ed. Paul Gootenberg & Luis Reygadas. Durham & London: Duke UP. 2010. 139-68.
"Elogio del apalencamiento. Perspectivas ante la pervivencia y reproducción de la desigualdad, los prejuicios y la discriminación raciales en la sociedad cubana actual." Cuban Studies 46. 2018.
"Obama in Havana and the Racial Politics of Contemporary Cuba." Transition. The Magazine of Africa and the Diaspora. 120, 2016: 39-45.
"Blackness, Cubanness, and the End of an Era." Black Diaspora Review. University of Indiana.5(2) Spring 2016: 12-23.
Floating in the Void: Ethical Weightlessness in Post-soviet Cuban Narrative." Bulletin of Latin American Research. Special Supplement « Rethinking the Cuban Revolution Nationally and Regionally » 31 (Feb 2012): 38-57.
"Confrontation and Occurrence: Ethical-Esthetic Expressions of Blackness in Post-soviet Cuba." Latin American and Caribbean Ethnic Studies 4/2 (2009): 103-135.
 "Les masques du Noir. Quelques approximations sur la présence du Noir cubain dans le récit cubain contemporain." Cahiers d'études africaines XLII. 165 (2002) : 7-29. 
General Public Articles

Education:
Ph.D., École des Hautes Études en Sciences Sociales (2002)
DEA (M.A.), École des Hautes Études en Sciences Sociales 
DESS, University of Bourgogne, Dijon/UNESCO Paris, France 
B.A., Journalism, University of Havana, Cuba